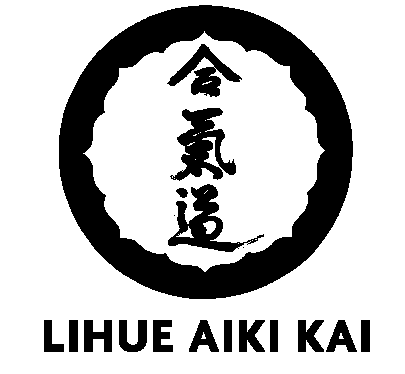 Lihue Aiki Kai
Lihue Aiki Kai, established in 1994, is a 501 (C) (7) non-profit organization that promotes the philosophy and practice of Aikido. The Lihue Aiki Kai is affiliated with Aikido World Headquarters, Tokyo, Japan.
Chief Instructor :
Wesley Shimokawa, 7th Dan
Instructors:
Philip Lewis, 3rd Dan
Steve Mitchell, 2nd Dan
Dojo Location:
Lihue Hongwanji Mission
3-3556 A Kuhio Highway
Lihue, Kauai, Hawaii 96766
Mailing Address:
Lihue Aiki Kai
P.O. Box 748
Lihue, HI 96766
Telephone (808) 635-AIKI (2454)
Fees:
$25.00 monthly dues
$10.00 Annual dues.
Schedule of classes:
| | | | | |
| --- | --- | --- | --- | --- |
| MONDAY | 6:30 - 7:30 PM | Beginners | 7:30 - 8:30 PM | Mixed/Advanced |
| TUESDAY | 8:30 - 10:00 AM | Mixed/Advanced | | |
| WEDNESDAY | 5:30 - 6:30 PM | Weapons | | |
| THURSDAY | 8:30 - 10:00 AM | Mixed/Advanced | | |
| FRIDAY | 6:30 - 7:30 PM | Beginners | 7:30 - 8:30 PM | Mixed/Advanced |
PLEASE NOTE: All classes will be suspended from December 23, 2019 to January 2, 2020



Health & Fitness

Sense of Well-Being

Self-Discipline

Self-Confidence

Practice Conflict Resolution

Required Equipment for Training

The standard training uniform is a white judo type uniform (dogi). New students may wear loose and comfortable sports wear. Dogi are available from Lihue Aiki Kai. Training weapons are the Jo, Bokken and Tanto.

About Aikido and Aikido Training

Aikido is a modern Japanese martial art developed by Morihei Ueshiba (1883 - 1969). It represents the essence of "Budo"... a warrior's method of mental, physical and spiritual cultivation.
Individual Japanese characters for Aikido can be translated this way:

Ai - Love or Harmony

Ki - Spirit or Life Force

Do - Path or Way.

Collectively, the characters' English translation is "the way of spiritual harmony". Mastery of Aikido demands the integration of the mind, body and spirit... a state in which thought and action become one.

Knowledge and mastery of Aikido involves 4 stages:

1) Learn the forms

2) Become fluid in its execution

3) Adapt forms to varied conditions

4) Develop a proper mind-set

Inherent philosophy of Aikido promotes harmony between people. There is no contest.
Strategies are based on a doctrine of non-contention or non-resistance. The intention is to resolve conflict, not escalate aggression.
Rather than relying on brute strength, emphasis is placed on proper body mechanics, positioning and timing. Tactics include control of one's space and body movement.
Development of the proper execution of techniques allows one to experience "Aiki" or spiritual harmony. Practice involves paired exercises where the unique phenomena of "effortless" power can be cultivated.
Overall benefits of regular exercise that is safe for almost anyone is what Aikido offers. Continued practice promotes a sense of well-being and cultivates greater self-discipline and self-confidence. You will meet and get to know others who care about their mental, physical and spiritual health. Aikido provides a practical method of practicing and experiencing conflict resolution.